At Nusteel Structures, we pride ourselves in consistently delivering a high level of service to our clients.
From the smallest single span bridges to the largest road and rail infrastructure projects, our aim is to provide efficient manufacturing and installation solutions whilst at the same time ensuring a positive safety culture is maintained.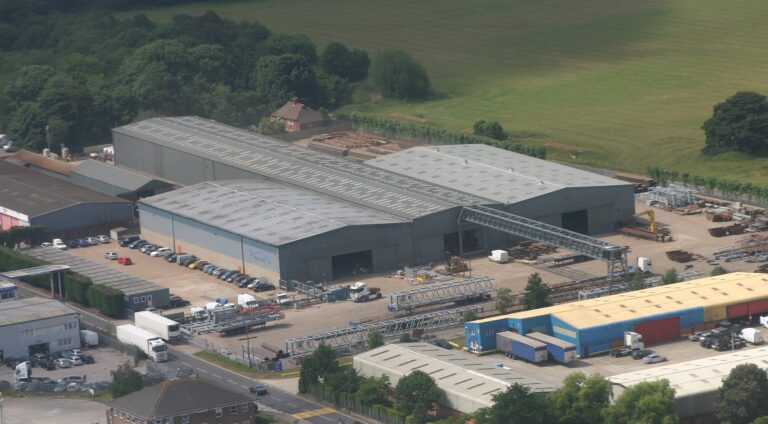 Embedded in our people culture is a collaborative approach to working through which we share expertise and knowledge with the wider stakeholders including our clients, delivery partners, architects and design engineers.
This ethos of assisting with problem solving and driving value is actively encouraged throughout our colleagues from day one of employment. Mentoring at all levels builds on a spirit of this 'one team' approach.
We find that trust based working relationships bear fruit and foster trust, appreciation, creativity and effective collaboration. An 'open gate' policy is operated where we welcome clients to visit our facility to see the complete manufacturing process and actively engage in project workshops.
Led by experienced and knowledgeable department managers, our Design and Technical teams are highly skilled in the structural design and detailing of steel projects.
To compliment the structural designers, our CAD project technicians work with 2D and 3D software to produce Fabrication and Arrangement drawings together with informative data. With inquisitive engineering mindsets and a passion for efficiency improvement, our colleagues thrive on innovation, problem solving and driving value. Working collaboratively in an Early Contractor Involvement environment, we are able to provide efficient design solutions that not only reduce overall scheme cost but also mitigate on-site time working and moderate associated risk elements.
To assist with structural design selection, we readily provide support for feasibility studies, conceptual designs, budgetary costing, transport solutions and installation methodology. information. Early contractor involvement
Continuous training and mentoring in this area ensures that Nusteel Structures remains at the forefront of the latest design requirements and working practices.
In conjunction with the Compliance and Quality departments, our Design office BIM Champions facilitate the integration of technical data for incorporation into the electronic handover packages. In this regard, we work closely with the client to ensure the project specific requirements are fully aligned.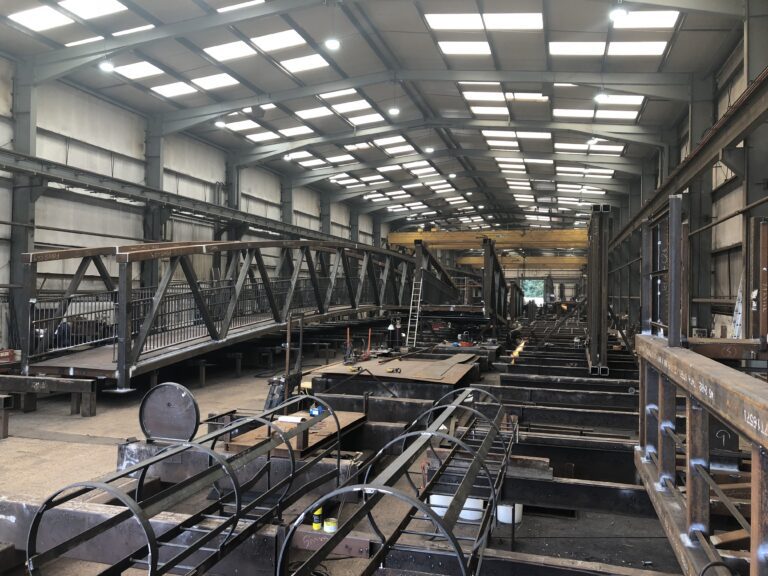 Nusteel's facility has been developed specifically for the fabrication of complex structures for the UK's infrastructure sector. As an example of our working capacity, up to 10 large bridge projects can be in production at any one time in our 3,520m2 fabrication workshops.
The steelwork is processed is in strict accordance with our BSEN ISO 9001 Quality Assurance system refined over years as a Registered Qualified Steelwork Contractor (RQSC) approved bridge contractor. Our accreditation includes Constructionline Gold and CE Certification including for Factory Production Control.
Nusteel has over 60 personnel involved with the production of steel structures. Fully qualified and experienced machinists, plater/welders and inspectors have a sound knowledge of bridge, gantry and complex structure requirements. 
The Company has made a significant investment in the last 3 years to improve the traceability of steel sections used to fabricate structures on all contracts undertaken by Nusteel. This has been achieved by the appointment of CE Compliance Manager to oversee this involved and complex process.
This has enabled Nusteel to enter into a Primary Authority Agreement with Kent County Council, which means that the processes used at Nusteel to achieve the required level of traceability under Execution Class 4 are to the standards expected by Trading Standards for all fabrication in the country. We are the only steel fabricator in the country to have achieved this.
All of the steel structures we fabricate are painted in our in-house purpose-built finishing facility.
This consists of a 500m2 Blast shop and a 1800m2 heated paint shop capable of painting 4000t of steel annually. We believe this in-house capability affords us a high level of control when compared to sub-contracting to external contractors.
Highways England and local authority projects are finished in accordance with the strict NHSS Sector Scheme 19A requirements. Network Rail bridge and gantry structures are finished in line with the N1 to N4 paint system specification.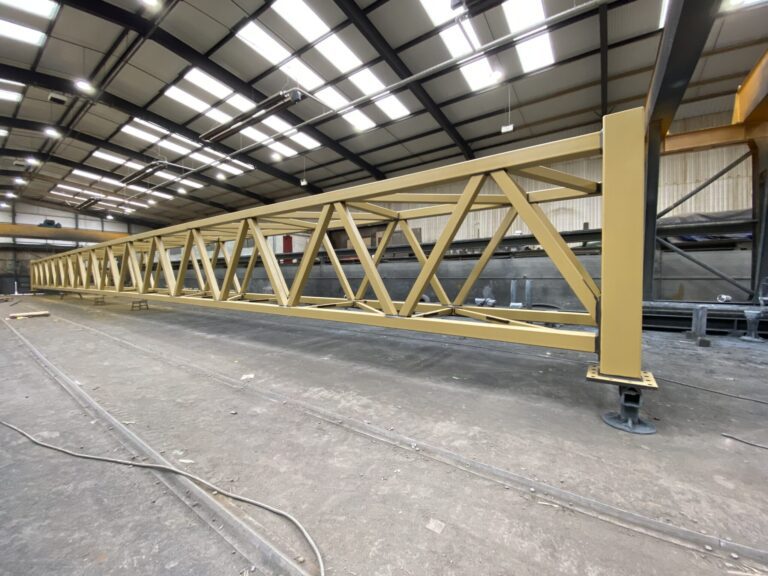 The blasting resource enables us to blast weathering grade steel beams and other Corten bridging products in readiness for delivery directly to site.
Experienced and highly qualified finishing personnel are employed to blast the bare steel structures and apply the multi-coat paint systems. All site remedial paint activities are carried out by our directly employed NHSS Sector 19A accredited workforce.
With a number of large storage yards, structures can be completed before being delivered to site providing complete 'off-site' solutions. Cladding, glazing, lighting and electrical componentry are fitted to the painted steel structures to minimise site working. On road beam schemes, the permanent formwork is often fitted and on the rail network underbridges can be concreted at our facility and delivered in a just-in time manner.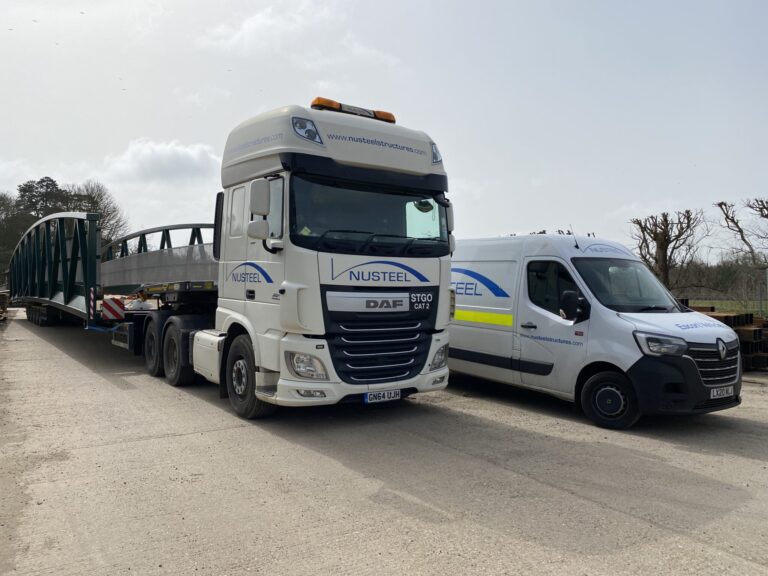 An important area of the structure supply process involves the transportation of the steel elements to site.
Our internal transport department consists of experienced drivers, abnormal load practitioners and an overseeing Transport Manager who manages our FORS accreditation.
The department has 3 modern tractor units, 3 specialist extendable rear-steer trailers, low-loader trailers and flatbed trailers. The extendable trailers are capable of delivering long structures in one piece and are specifically used for transporting long span bridge, truss and gantry booms.
Our experienced Transport Manager liaises with all the necessary police authorities, local authorities and main contractors to effectively plan routes and organise abnormal load applications.
Movements are meticulously planned to ensure minimum disruption to the road user. Careful liaison with the client's engineers include the preparation of delivery sequence drawings to provide a seamless delivery of the steel components in accordance with the project programme.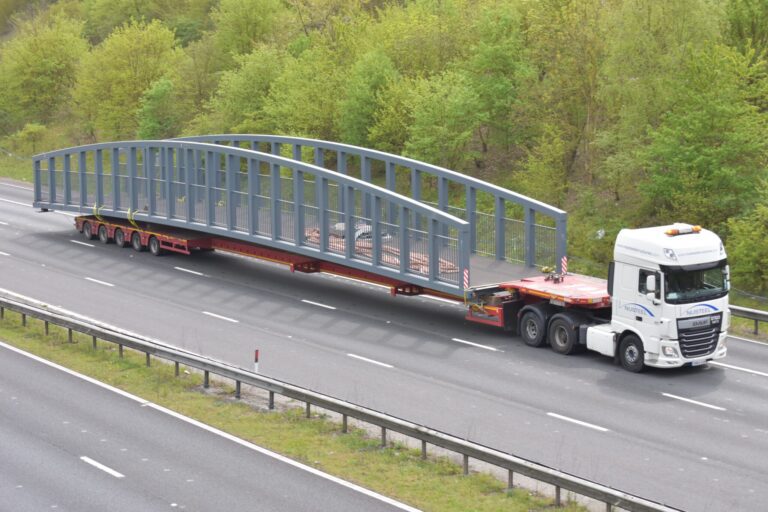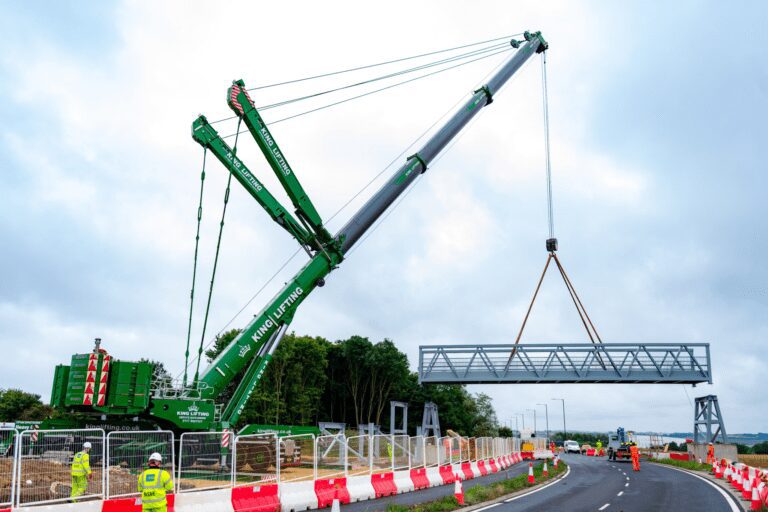 Nusteel's in-house Erection Department consists of 3 full time installation teams.
Our Installation Manager organises their workload and prepares all site-specific method statements. All erection personnel are qualified Slinger/Banksmen and certified paint applicators under the Highways Agency Sector 19A scheme.
Under the NHSS Sector Scheme 20, we employ qualified Bolting Co-ordinators and Practitioners which allows us to install bridges and gantries for Highways England and local authorities using tension control bolts and high strength friction grip bolts.
With 4 fully equipped erection vans, 4 MEWPs, an escorting van and other associated towable plant, projects small and large are efficiently resourced.
All lifting operations are planned and managed by in-house Appointed Persons with the craneage hired in on a project-by-project basis. We have an ongoing 3-year supply contract with a national crane hire company in this regard.
All site painting activities including remedial painting are recorded electronically to provide a seamless paper free handover documentation system – in accordance with our BIM protocols.