Introduction – Climate change is one of the biggest challenges of our time.
A worldwide effort is underway to limit the Earth's temperature rise to 1.5°C, which would require the world to reach Zero Net CO2 emissions between 2030 and 2050.
To help the planet become fossil fuel free within one generation, Nusteel needs to reduce its carbon emissions throughout the supply chain, and this is already happening. We are collaborating with customers, partners, and the authorities to achieve this. Nusteel's aim is to reduce or offset our scope 1 and 2 emissions by 2025 to achieve net zero carbon emissions. The process will feed into our goal of reducing our emissions for all our own operations, our suppliers and customers by 2035, supporting the UK governments desire to reduce carbon emissions by a minimum of 78% relative to 1990 levels.
We are committed to reduce our emissions in line with the 1.5°C target and have committed to using auditable carbon credits where reductions in emissions are not yet possible.
Our CO2 Roadmap – Climate change draws on all of us and effects all of us.
Nusteel is committed to following the 1.5 degree trajectory from the United Nations targets by continuing to implement carbon reduction initiatives. The graph (Fig.1) below shows a forecast of how we will reduce emissions over time in line with the 1.5 degree trajectory. From our 2017 base of 863t CO2 we will have reduced our emissions intensity 27% by 2022 and be net zero by 2025. Nusteel's Client/Customer supply chain should be Net Zero well in advance of the UK-EU's 2050 deadline, as the UK governments stated aim is to be Net Zero by 2035. Where technology fails to provide the solutions required, remaining carbon emissions will be offset, as demonstrated in the diagram below (Figure 1).
Figure 1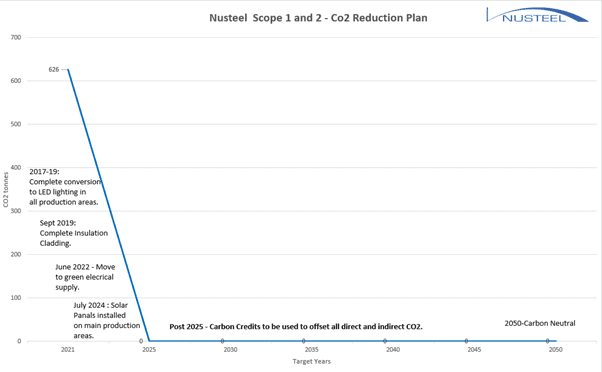 Our own actions – Reducing our own business emissions.
Fossil fuels are no longer a long-term option for a society that wants to achieve climate neutrality, nor for the Nusteel of the future. We aim to reduce or offset our annual scope 1 and 2 carbon emissions from 2020 figure of 626t CO2 to carbon neutral by 2025. Further to this we will work with our supply chain and customers to try and achieve zero emissions from scopes 1, 2, and 3, in line the with UK governments declaration, by 2035. Electric power is the key to this, and it is anticipated that the national grid will be able to produce even greater amounts of nuclear and renewable power and it is Nusteel's aim to change its electrical supply to benefit from this innovation by 2023.
Reducing our supplier emissions – Our strategy of enabling fossil free living within one generation has a full supply-chain support.
This means that we do not only have to work purposefully to reduce our own footprint, but also the footprint of our suppliers and customers. As a crucial step towards a fossil free future, Nusteel is encouraging its major suppliers to invest in modern technologies and processes to reduce the amount of carbon produced during the steel making process and we now request carbon metrics to accompany material shipments. Nusteel enjoys a huge benefit in terms of monitoring and controlling its own none-material scope 3 emissions as it does not subcontract transport or production activities. s to make climate-smart decisions so that they can be free from fossil fuels within one ration.
Helping our customers achieve their climate targets – Customers are also keen to achieve their Carbon targets.
We are committed to reducing our climate impact across the entire supply chain, with a particular focus on helping our customers and partners lower their emissions and achieve their climate targets. We will continue to lower or offset our emissions, reducing our customers project footprint and support them towards their net zero objectives. Examples of our actions so far include working towards low-CO2 heat and electricity, hybrid vehicles with charging areas, solar power projects, insulation, LED lighting, and more. We strive to provide transparency on the climate footprint of our products through material and service assessments. We are also cooperating with energy intensive businesses to reduce CO2 emissions through the electrification of our transport fleet when this technology becomes available.
We believe that our collaborative approach to reducing CO2 emissions and working towards the UK 2035 target is an important and achievable objective, which will contribute to a sustainable, clean environment, and reduce our reliance on fossil fuels.